National Home Fire Drill Day - October 14, 2017: New Castle County, DE
10/2/2017 (Permalink)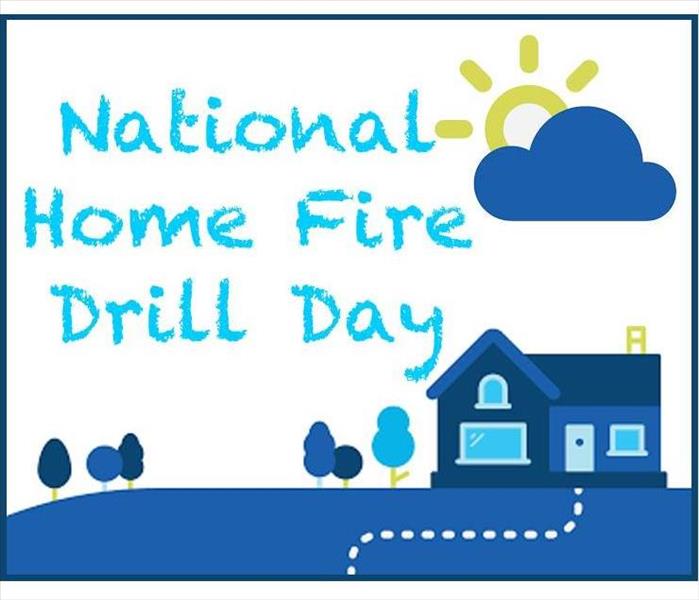 A home fire happens every 86 seconds, yet half of parents say their kids wouldn't know what to do if their smoke alarm went off
Practice Your Home Fire Drill - Practice Makes Perfect!
Practice your home fire escape plan twice a year, making the drill as realistic as possible.
Allow children to master fire escape planning and practice before holding a fire drill at night when they are sleeping. The objective is to practice, not to frighten, so telling children there will be a drill before they go to bed can be as effective as a surprise drill.
It's important to determine during the drill whether children and others can readily waken to the sound of the smoke alarm. If they fail to awaken, make sure that someone is assigned to wake them up as part of the drill and in a real emergency situation.
If your home has two floors, every family member (including children) must be able to escape from the second floor rooms. Escape ladders can be placed in or near windows to provide an additional escape route. Review the manufacturer's instructions carefully so you'll be able to use a safety ladder in an emergency. Practice setting up the ladder from a first floor window to make sure you can do it correctly and quickly. Children should only practice with a grown-up, and only from a first-story window. Store the ladder near the window, in an easily accessible location. You don't want to have to search for it during a fire."
When you practice make it fun, see who can get out of the house the safest & quickest, don't just walk, but low crawl to simulate smoke conditions.
Don't forget to practice "Stop, Drop & Roll." Keep practicing until everyone can get out of the house within 2 minutes.
Call 911 - Once everyone is safely out of the house, be sure to call 911. You may not have a cell phone with you when you are evacuating, so get to a neighbor's house and make the call.
There is nothing more important than the safety of you and your family. So be sure to create a plan and practice the plan.
Once it has been determined that it is safe to return to your home and the time has come to begin the cleanup, remember we are here to help.
3 Basic Steps To A Home Fire Drill
STEP 1. KNOW WHERE TO GO
Pick a safety spot that's near your home and a safe distance away.
Explain to your kids that when the smoke alarm beeps, they need to get out of the house quickly and meet at that safety spot.
STEP 2. CHECK YOUR SMOKE ALARMS
Test your smoke alarms with your kids so they know the sound.
Make sure there's a smoke alarm on every level of your home, and one in each bedroom.
STEP 3. DO THE DRILL
Have kids head to their bedrooms and wait for the drill to begin.
Got kids under 6? Assign adults to help anyone who'll need it.
Put one adult in charge of sounding the smoke alarm and running the drill.
Next, sound the smoke alarm, start the timer and have everyone book it to the safety spot.
Once everyone gets to the safety spot, stop the timer. If you all made it in under two minutes, you each get an imaginary gold medal. If not, give it another try.
In a real fire, get to the safety spot, then call 911 and keep everyone close until firefighters arrive.
For More Information and Home Fire Drill Games Visit http://homefiredrillday.makesafehappen.com
For more fire prevention tips and information about fire and water damage restoration services, please visit SERVPRO of Bear/New Castle, DE online or join us on face book at https://www.facebook.com/SERVPRObearde
Residential and Commercial Restoration and Cleaning Services
SERVPRO of Bear/New Castle, DE is a trusted leader in the restoration industry. We provide 24-hour emergency service and are dedicated to responding faster to any size disaster. With the training and expertise to handle your restoration and cleaning needs, we're locally owned and operated and can respond immediately to your emergency.
Have Questions? Call Us Today – (302) 392-6000